China Medal Count
26 gold, 18 silver, 26 bronze (3rd place overall)
Day 15: Medals
Gold: Chen Long (men's singles badminton), Chen Aisen (men's 10m platform diving), Zheng Shuyin (women's +67kg taekwondo); women's team (volleyball)
Bronze: Feng Shanshan (women's golf)
Day 16: Ones to Watch
Dong Guojian, Duo Bujie and Zhu Renxue line up for China in the men's marathon – a race always dominated by Africans – while Wang Zhen is China's only other competitor in action on the final day, entering the men's cross-country mountain bike event as one of the lowest-ranked riders in the field. In other words, the fat lady has already sung for Team China.
Meanwhile, super heavyweight boxer Joe Joyce will claim either a silver or gold for GB, rubbing in that margin of victory a little more.
Day 15: Review
When friends who never normally talk about sports suddenly can't talk about anything else, you know something special must have happened.
Volleyball – especially on the women's side – has always been a big sport in China, with those ladies winning medals at five of the eight Olympic Games in which they had previously competed.
Coming into Rio, the Brazilian team were hot favorites as hosts, having won the past two Olympic titles, but a young Chinese side – much-improved under the guidance of Lang Ping, a star player in China's gold medal-winning 1984 Olympic team – were considered among a handful of teams that might contend for the silver and bronze medals.
Lang Ping, in fact, had also won two silver medals as a coach, one with China in 1996 and another with the US team in 2008, an affiliation that sparked accusations of being a traitor to her country, clearly ludicrous in the modern sporting age, even by China's own sensitive standards. After three years with the US team (2005-08), Lang Ping returned to her position as Chinese head coach in 2012, steering the team to silver at the 2014 World Championships and gold at last year's World Cup.
However, the volleyball team initially mirrored China's wider Olympic fortunes in Brazil, not performing to their best and coming up with some disappointing results. China only managed to beat Italy and Puerto Rico in group play, posting a 2-3 record to finish fourth in Pool B. But with eight of 12 teams progressing to the knockout stages, China had one more chance – albeit against a red hot Brazilian team that hadn't dropped a set in winning all five matches in Pool A.
In a performance that was as gutsy as any in recent memory, in front of as vocal a Brazilian crowd as any seen at these Games, China somehow edged to a 3-2 victory, winning the decider 15-13. In 21-year-old outside hitter Zhu Ting, the team had a focus and now – suddenly – a belief that this could be their year. Captain Hui Ruoqi, who had heart surgery just last year, supplied another sub-plot.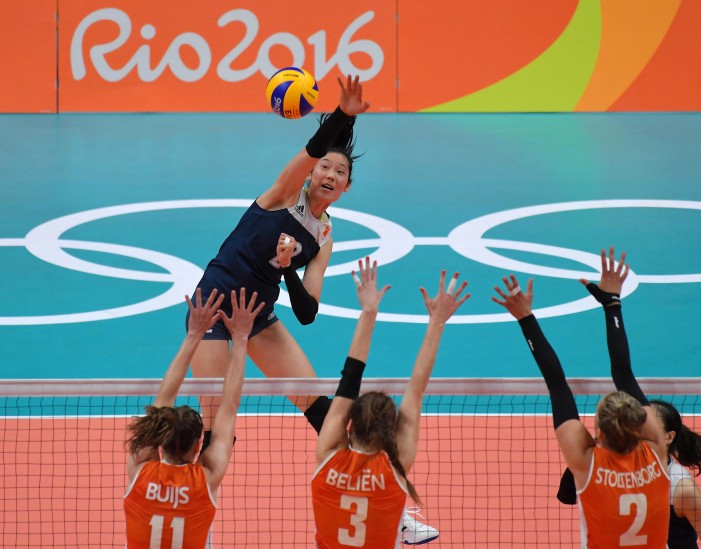 In a rematch against the Netherlands, who beat China earlier in the tournament, Zhu scored a mammoth 33 points – the joint third best individual scoring performance in Olympic history – as China won 3-1.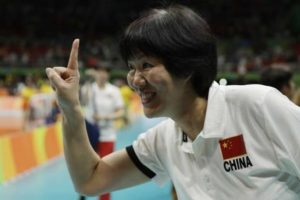 Pictures of Zhu Ting and coach Lang Ping (right) were everywhere you looked. The top-seeded Americans would have been a dramatic final opponent, especially given the divided history of Lang Ping, but they were upset by Serbia in the other semi-final in another sign that gold was to be China's destiny.
One minute after midnight in Brazil, China completed a 3-1 win over Serbia to end a truly golden Day 15 for China in Rio, after other gold medals for shuttler Chen Long, diver Chen Aisen and taekwondo player Zheng Shuyin. Golfer Feng Shanshan also got in on the act, adding an unexpected Olympic bronze to a trophy cabinet that also includes one major title – the 2012 Women's PGA Championship.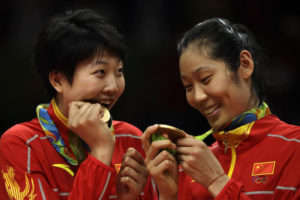 Zhu Ting was named Most Valuable Player of the tournament and the beaming smiles of China's 12 golden girls will be one of the lasting memories of the Rio Olympic Games.
After two weeks of sub-par performances that still left China third in the medal table behind the US (expected) and Great Britain (less so), the country most definitely finished on a high. And – for one day at least – that was all China was talking about.
To keep up-to-date with all the latest news from China Sports Insider, please click on the "SUBSCRIBE" button in the top right corner of this page.