Earlier this year, China and Germany established a high-level football partnership, at the center of which China's U20 national team was to play a series of games against teams in Germany's south-west. But a Tibetan protest at the very first game has left the entire cooperation in tatters – and could have ramifications for China's wider sporting ambitions. 
Last month, six people displaying a grand total of four flags staged a protest at a football match in Germany that was attended by about 400 people. On the surface, it was hardly an earth-shattering event. But anything involving the "Tibet issue" is magnified exponentially in China and the dust from that day is still settling.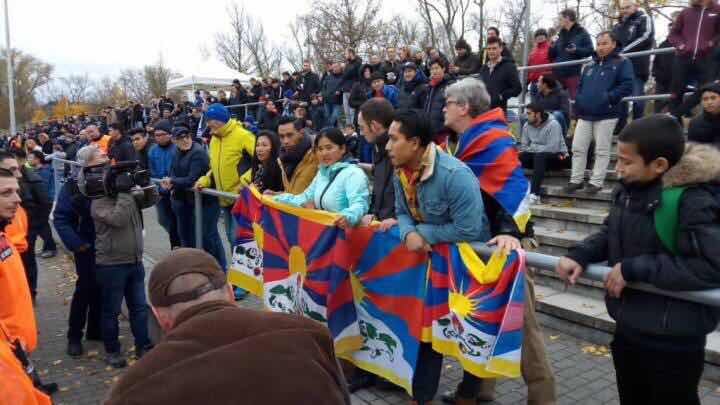 Firstly, here's the background…
Since March 2015, China has been seeking to reform its soccer industry from top to bottom, all with the aim of improving the rankings of its men's and women's national teams. As a result, China had reached out to just about every major footballing nation, with FAs around the world licking their lips at the thought of becoming China's premier partner.
However, given Germany's outstanding record in international competition – a top-three finish in each of its last seven European Championships and World Cups – it should come as no surprise that Germany came out on top in this unofficial bidding process.
While most bilateral partnerships of this nature simply end up with the signing of a largely meaningless memorandum of understanding (MOU), Germany and China inked a government-level deal in November 2016 that was reinforced when Chinese President Xi Jinping visited Germany in July, taking in an Under 12 game in Berlin alongside his counterpart Angela Merkel.
As a direct consequence of this partnership, China then decided it would embed its Under 20 men's national team – who could, or perhaps should, form the core of its Under 23 squad for the 2020 Tokyo Olympics – into a regional league in the fourth tier of Germany's professional football pyramid. While the Chinese team was never an official part of the league, with the games officially a series of friendlies, in reality the Under 20s were rostered in as the league's 20th member.
But that's about when things started to go awry.
The 19 full members of the Regionaliiga SudWest, one of five regional leagues that collectively make up the fourth tier of German football, were each to be paid 15,000 euros to play one game against the Chinese side, a significant amount of money for teams at that level. But three of the clubs – Waldhof Mannhein, the Stuttgart Kickers and TuS Koblenz – evidently thought principles were somewhat more important than euros and refused to play ball, quickly reducing the fixture list to 16 games.
Criticism was also forthcoming from teams outside the league. FK Pirmasens, one of six teams relegated from the Regionaliiga SudWest last year despite finishing in 14th position, were particularly aggrieved after arguing that their solid financial footing merited staying in the league. Following a complex combination at the end of last season consisting of:
Relegated teams from the third tier (2)
Those at the top of the fourth tier failing to win promotion through the playoff system (2)
Newly-promoted teams from the fifth tier (4)
this would have necessitated increasing the number of teams in the league to 20, something that league bosses rejected. Imagine their surprise, then, when the league effectively did that anyway by inviting the Chinese team to join them as a 20th member.
But others, too, didn't take kindly to the arrangement. Former Bundesliga sides Rot-Weiss Essen and Rot-Weiss Oberhausen, who now play in the Regionalliga West – another of Germany's fourth-tier leagues – both lashed out with caustic humor. Essen asked the DFB – the German FA – on Facebook to be admitted to the Bundesliga for for 2018-19 season, suggesting they only wanted to play friendly matches, while Oberhausen talked about replacing German staples on their menu with Chinese dishes, swapping their club mascots for dragons and, in the most pointed joke of all, asking fans to keep their car engines running so as to create a more polluted, Chinese-style environment.
Not to be deterred, however, the friendly games were scheduled as normal, with the Chinese youngsters due to visit Mainz on November 18 for their first of the 16 matches. But it's worth remembering that there were rumblings of discontent well before the fateful "Tibetan Incident".
However, just 25 minutes into the game, which was being broadcast live back in China, someone spotted something unusual in the crowd. Half a dozen activists had turned up and were displaying four Tibetan flags on the terraces. The message was clearly communicated that the Chinese side must leave the field until these flags were removed.
The teenagers on the pitch almost certainly wouldn't have even recognized the flags, such is the widespread censorship of anything deemed to promote an independent Tibetan state, so it's still unclear who made that decision – whether a member of the U20 management team in Germany or an eagle-eyed executive watching back in China. But the half-hour delay while the flags were removed proved fatal in China's ongoing plans to soak up invaluable experience in Germany.
We'll never know what would have happened if the Chinese side had taken the high ground and chosen to turn a blind eye to the Gang of Six, but, as it was, the activists succeeded beyond their wildest dreams.
The following week's match was called off after it was discovered that further protests were planned – with the Chinese side demanding a guarantee that there would be no protests and the German side refusing to give one – and the U20 team has now returned to China. The official line is that these games will be rescheduled after Germany's winter break, but, short of playing these games behind closed doors, it is almost impossible to see them ever being played, given how firm a stance each side is taking.
So what happens now?
Initial reaction was split.
Christian Schmidkonz, a professor of China business at Munich Business School, told the South China Morning Post that the embarrassing affair would not slow the increasingly multifaceted cooperation between the two countries, as the mutual stakes are much too high:
"It is, as usual, about the Chinese side wanting the know-how and the foreign side wanting the Chinese market. China wants German know-how for its talent schools to see football played successfully in China at long last, whereas the Chinese market is extremely attractive for the German clubs and the national team."
It's an optimistic view – and things may yet recover – but the Tibetan issue is such a sensitive one in China that this mishap may have created too big a block for the Chinese side to ignore. More recently, Sino-German relations took a further hit when Germany's domestic intelligence service, BfV, accused China's spy agency of targeting German citizens via LinkedIn in a bid "to extract information and find intelligence sources", prompting China to warn Germany not to undermine bilateral relations. This is no idle threat: in China, politics always trumps all else, so fractious relations in other areas could directly impact the football partnership.
Meanwhile, German Klaus Schlappner, China's former national team coach, told Die Welt, that "the CFA will likely now be turning to Spain or England". However, whomever China turns towards next – whether Germany, Spain, England or another – the U20 experiment, and variations of it, is surely dead in the water unless the host explicitly agrees to allow the Chinese side to dictate censorship rules in their own country. Recep Tayyip Erdoga, for example, might agree to do so, but the Turks don't exactly fit the footballing bill China is looking for.
Why did this fail?
In short, this was a classic example of cross-cultural miscommunication. From the Chinese point of view, the venture would have been seen as a perfect way to get experience for their young players, and the money being paid should have ensured that the transaction went off without a hitch. No thought would have been given to the rumblings of discontent seen and heard ahead of time, because tolerating protests or dissent is not an issue the Chinese authorities ever have to deal with.
But in some ways it was all too predictable that something like this might happen. China is very keen to tell foreigners and foreign companies that they must abide by Chinese laws when in China – as they have every right to do so – but is not that keen to do so when the boot is on the other foot.
Similar, if less high-profile, situations can be found wherever Chinese companies seek to globalize: Huawei having to obey European labor laws in France instead of imposing a Chinese work culture on their local employees, for example, or Alibaba's Ant Financial realizing that, outside of China, the winds of government policy aren't quite so favorable (as they get knocked back by CFIUS for a third time in their bid to buy Moneygram).
Globalization is still a relatively new concept and these international relationships take time to develop, as both sides feel each other out, before – eventually – growing more comfortable. The hope now is that China doesn't completely abandon its plans at the first sign of trouble, but the road ahead is unclear.
What's next for China?
It's worth remembering that this overseas expedition was nothing new for China. Way back in 1993, China shipped a group of youngsters to Brazil – another initiative that was supposed to herald the rise of China on football's world stage and while the team produced a few national team stars, such as Li Tie, they didn't, according to CCTV, "quite live up to the expectations of many Chinese fans who thought they would take Chinese football to the next level upon their return."
Sound familiar?
As an aside, this 1995 piece from then Independent correspondent Teresa Poole is well worth a read in its entirety, especially the part that deals with the team's off-field issues in Brazil:
"The ancillary staff have also caused problems. The newly married schoolteacher returned early to China because she missed her husband, found life in Juquitiba boring, and did not like the local food; since then the boys have had no tuition. The interpreter departed when a better job came up, leaving the two Chinese coaches in the squad with just about enough Portuguese to interpret for Pasca. The Chinese chef was appropriated by the Chinese consulate in Sao Paulo for three months to cater for visiting dignitaries. And the Chinese doctor has liver problems and is waiting to be replaced."
The point is that then, as now, while football happens on the pitch, it's just as often off-field problems that can derail even the best laid plans. That said, on-field issues did a pretty good of derailing this 2007 game in the UK between QPR and China's Olympic squad (see video below):
The biggest lesson for China here is that the bigger picture has to be considered, and that means thinking of angles it wouldn't normally even conceive. There are still several ways in which the two sides can cooperate – from training programs and youth games to more senior-level games in China – but the next steps will undoubtedly be far more tentative and understated given the fiasco of the past two months.
What effect will this have on China's other sporting ambitions?
One potential problem for China in the future is that protesters all around the world now know that all they need to do when attending a sporting event featuring a Chinese team or athlete is unfurl a Tibetan flag and make the Chinese side aware of it. The thin-skinned overreaction in Mainz has now all but guaranteed media coverage for the cause – whatever that cause might be – purely because China can be guaranteed to react poorly if something happens, thus fanning the flames of the story. This won't happen at the upcoming Olympics, of course, which has clear and strict rules about political demonstrations in their sporting venues, but from snooker and table tennis to badminton and golf, it's not hard to think of opportunities at international competitions that protesters might look to exploit.
From there, it's not a stretch to imagine that players or teams might choose not to appear in certain tournaments in order to avoid future embarrassments. This might seem unlikely today, but with rising anti-CCP rhetoric around the world, especially in countries such as the US and Australia, protesters – Tibetan or otherwise – will look to hijack sporting events as a way to get their message across. Unless China learns to look the other way, the result will be the same as we've seen in Germany.
To keep up-to-date with all the latest news from China Sports Insider, please click on the "SUBSCRIBE" button in the top right corner of this page (or see below on mobile version). Also follow along on Twitter for regular updates.