China Medal Count
13 gold, 10 silver, 14 bronze
Day 7: Medals
Gold: Wang Zhen (men's 20km walk); Gong Jinjie & Zhong Tianshi (women's cycling team sprint)
Silver: Cai Zelin (men's 20km walk); Tian Tao (men's 85kg weightlifting)
Bronze: Li Dan (women's trampoline); Yu Song (women's +78kg judo); Huang Wenyi & Pan Feihong (women's rowing lightweight double sculls)
Day 8: Ones to Watch
Rower Duan Jingli goes for gold in the women's single sculls, Wang Jianan and Huang Changzhou go in the men's long jump final,  Dong Dong and Gao Lei jump for trampoline hardware, Li Yuehong and Zhang Fusheng take aim in the men's 25m rapid fire pistol and China has teams in both the men's and women's 4x100m medley final. Those are the main medals on offer with Chinese interest, but there's plenty of other action this weekend.
Day 7: Review
World records are often seen as the holy grail in sport, but on Day 7 of these Olympics, China finally got rid of the one record it didn't want.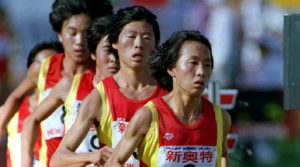 Wang Junxia's 23-year-old mark in the 10,000m was set in an era clouded by suspicion, when Wang Junxia – once referred to as one of the "chemical sisters" – trained under Ma Junren, who was later fired from the Chinese Olympic team after six of his athletes failed drug tests.
Even though a letter from Wang Junxia, in which she admitted to taking part in state-sponsored doping, was circulated by Chinese media earlier this year, her notorious mark still stood in the record books, the one record that perpetuated those shameful times, instead of celebrating excellence.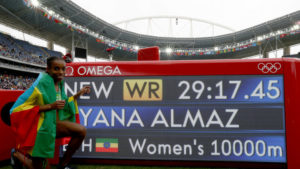 But Ethiopia's Almaz Ayana (right) absolutely obliterated that mark on the first day of athletic competition, leaving observers unable to comprehend what they had just seen. Some resorted to humor, questioning whether the track inside the Estadio Olimpico was indeed a full 400 meters long, given that 18 of the competitors had run a personal best.
Others, including some of the sport's former greats, admitted to being baffled that Wang's world record from a questionable era had been beaten by 14 seconds by a woman covering the distance for only the second time in her life.
As one journalist summed up, we cannot accuse because there is no evidence, and we cannot believe because there is no trust.
Wouldn't it be nice not to have to talk about doping for just one day at these Olympics?
With Wang Junxia losing her most infamous record, drawing a line under that 20+ year chapter of doping, Chinese swimmer Chen Xinyi kept the topic in the news, accepting a provisional suspension after testing positive earlier in the week, while star freestyler Sun Yang, who had become embroiled in a back-and-forth with Mack Horton over Sun's previous doping suspension, again lost to his Australian rival in the 1,500m heats, ending his involvement in Rio.
It remains to be seen how harsh Chen's eventual punishment will be, but the incident dealt China's swim team, already taking hits from all sides in Rio, its biggest blow yet.
Elsewhere, China showed gains in sports in which it has not traditionally dominated, picking up seven medals in total across six disciplines, including track cycling, judo and rowing.
In racewalking – famously compared by US commentator Bob Costas to a competition for who can whisper the loudest – a Chinese 1-2 for Wang Zhen and Cai Zelin more than made up for reigning champion Chen Ding's 39th place finish.
And in another sport typically dominated by westerners, mainland golfers Li Haotong and Wu Ashun saw their challenges fall away in the second round, but Taiwan's Pan Cheng-tsung's second consecutive 69 saw him move into the top ten at the halfway point.