10 games over the next 12 months will determine whether or not China can qualify for the FIFA World Cup for just the second time in history. 
The third and final round of AFC qualifying for the 2018 World Cup gets underway on Thursday evening, and China couldn't face a tougher start. An away game in Seoul against South Korea (Asia's second-ranked team) will be followed by a home game in Shenyang next week against Iran (the continent's top-ranked team).
12 teams have been split into two groups, listed below. They will play home-and-away in a round-robin format until September next year, with the top two in each group automatically qualifying for the 2018 World Cup in Russia. The two third-place teams will then face each other over two legs, with the winner playing the fourth-placed team from the fifth round of CONCACAF qualifiers in a two-legged playoff for the final chance to make the World Cup.
Group A: Iran (FIFA ranking 39), South Korea (48), Uzbekistan (55), China (78), Qatar (80) and Syria (105).
Group B: Japan (49), Australia (57), Saudi Arabia (61), the UAE (74), Iraq (113) and Thailand (120).
Thursday's opener will take place at the Seoul World Cup Stadium where China played its third – and last – World Cup match in 2002, a 0-3 loss to Turkey, as China ended its one and only World Cup campaign without so much as a goal – but a lot has changed since then.
The Chinese Super League, for example, has seen a huge amount of investment over the past year, with the league's transfer record broken five times as foreign talent is imported to China, often paid on par with some of the top European leagues. Meanwhile, Chinese companies are investing in football globally at a pace that makes them the envy of the world, let alone Asia.
It's still unclear, though, how much of that investment is actually benefiting Chinese football.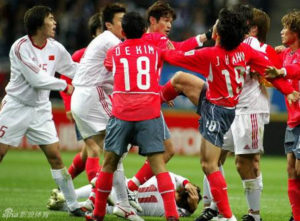 The head-to-head record between China and Korea makes for grim reading, with China winning just once in the past 30 encounters. But if Chinese fans are looking for omens, that 3-0 win came at the East Asian Football Cup in 2010, during current coach Gao Hongbo's first stint in charge of the team.
11 Koreans now play in the Chinese Super League, including four of the seven defenders on coach Uli Stielike's roster, but six of the Korean squad ply their trade in the more competitive environs of Europe, compared with just one for China – 19-year-old striker Zhang Yuning (below).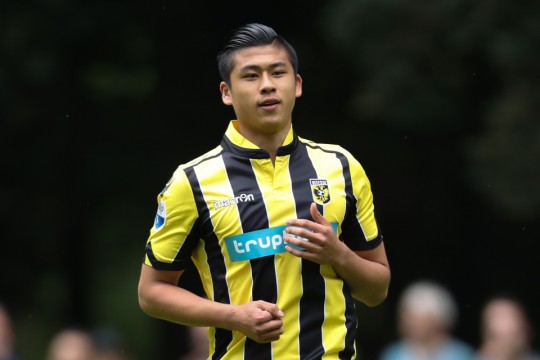 While China sneaked into the final qualifying round at the last moment, South Korea won Group G with eight straight wins, scoring 27 goals (including a 3-0 forfeit vs Kuwait) and conceding none. But, domestically, money has tilted the balance in China's favor in recent years.
South Korean teams have won the Asian Champions League more times than any other country, but China's Guangzhou Evergrande boasts two of the last three titles, with the team's 2013 triumph coming at the expense of FC Seoul in the final.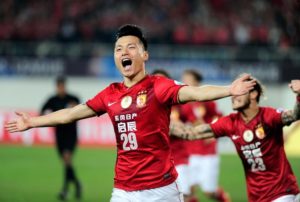 Striker Gao Lin (right) scored in the first leg of that final – held, coincidentally, at the Seoul World Cup Stadium – and was also on target in China's win over Korea six years ago. Perhaps more significantly, Gao & co. could be supported by almost half of the 66,000 fans in attendance on Thursday. The Korean FA gave 15,000 tickets to China last month, but reports claim additional purchases by Chinese residents in South Korea and travel agencies could double that total.
Moreover, China's players will share 3 million yuan for every match they win in this final round of qualifying, with an additional 60 million yuan ($9 million) on offer if the team qualifies for the 2018 World Cup.
Despite that incentive, with just four of the 12 AFC teams remaining guaranteed to qualify for the finals in Russia, the odds are firmly with South Korea, who have played in every World Cup since 1986, to claim one of those spots.
Meanwhile, China's most realistic chance of progressing to the World Cup is to finish third in the group behind Iran and  South Korea, and take their chances in the playoff lottery, so getting anything out of this game would be a bonus. As a result, they really have nothing to lose in this opener – and that, more than the money fueling the domestic game, makes them a very dangerous opponent.
China's qualifying games in full:
Sept 1, 2016 – South Korea (a)
Sept 6, 2016 – Iran (h)
Oct 6, 2016 – Syria (h)
Oct 11, 2016 – Uzbekistan (a)
Nov 15, 2016 – Qatar (h)
Mar 23, 2017 – South Korea (h)
Mar 28, 2016 – Iran (a)
June 13, 2017 – Syria (a)
Aug 31, 2017 – Uzbekistan (h)
Sept 5, 2017 – Qatar (a)
To keep up-to-date with all the latest news from China Sports Insider, please click on the "SUBSCRIBE" button in the top right corner of this page.
An abridged version of this article first appeared here.