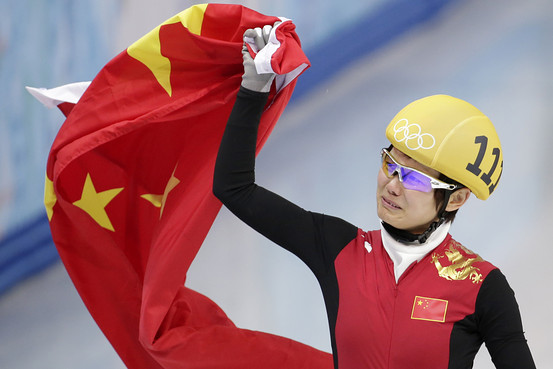 It wasn't supposed to happen like this. Fan Kexin was the anointed successor to China's most decorated Winter Olympian Wang Meng, following Wang's double ankle fracture in training last month. If Wang had been a certainty to win (at least in Chinese minds), then Fan was the next best thing, stepping into the breach as China's short track production line all moved up one slot in the rankings.
It was all going according to plan: Fan posted the fastest time in the heats, then again in the quarterfinals. But it all went horribly wrong in the semifinals. China had three of the eight racers in the semis, but had the worst possible result. All three were drawn in the same semifinal alongside Great Britain's Elise Christie – with only two to go through – but Fan caught her blade and crashed out early.  Worse was to follow: the unfancied Christie won, with Chinese athletes in 2nd, 3rd and 4th. Only Li Jianrou progressed to the final, and her time gave her the worst starting position to boot.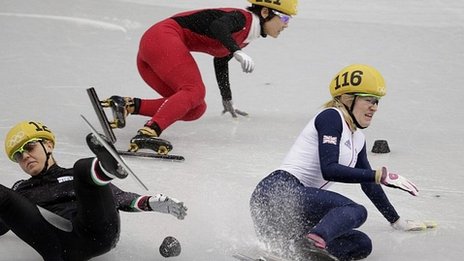 Li is a former world champion in the 1,500 m, but has never done anything of note at the shorter distance. But the sporting gods work in mysterious ways. With Li in last position, Christie crashed out on the first lap taking the Italian and Korean with her. 27-year-old Li was the only one to escape the carnage, skating unchallenged for the majority of the race to win China's first gold of the Sochi Olympics. It was the result China was expecting – but no one would have predicted this.
After an emotional rollercoaster of a day for China, Li said:
"I cried because I was so excited. My coach told me this medal is for Wang Meng as well, so I felt very moved."
In a way, it's typical of short track, with the frequent crashes part of what makes the sport so exciting. But it also shows China's strength in depth: this would not have happened if they hadn't had first Fan, and then Li, to step up after Wang Meng's injury. And don't forget Liu Quihong, who won the B final and finished 4th overall after Christie was demoted for causing the crash. A veritable production line indeed.