US-based sports marketing guru Joe Favorito reached out and asked me to do a Q&A for his site on various aspects of the Chinese sports industry. Given that his weekly industry newsletter is distributed to well over 30,000 people, I was more than happy to oblige. Joe published the results in two parts – here and here – which are reprinted below. 
Joe Favorito: How has the sports landscape in China changed the most over the past five years?
Mark Dreyer: There are two main drivers here: 1) Almost exactly three years ago, the Chinese government declared that sports would be an essential part of the economy, with the aim of building the country's sports economy into the world's largest – worth, they hope, $800 billion – by 2025. That has driven a huge amount of investment into the sports sector, as companies/individuals realize that investing in sports can be both politically and financially smart, and has seen increased targets for participation set by just about every sport from grassroots level up. Concurrently, there's been a sea change in social acceptance of sports, especially among the growing middle class of some 300 million people, that sports can be beneficial for children instead of simply being a distraction from the all-important academic side. Those two factors have seen Chinese people getting involved in sports in record numbers across the board, making it a very exciting time to be involved in the industry.
JF: What is the biggest misconception the sports business world has about sport in China?
MD: Without a doubt, it has to be the numbers. Yes, China has close to 1.4 billion people and, yes, people are playing sports in record numbers, but that doesn't mean 300 million people are about to take up your sport. The examples are everywhere: I could list about 20 European soccer clubs who claim they have close to 100 million fans in China, which means that the numbers are either very wrong or that the concept of what it is to be a "fan" is very, very different to the western notion. "If we can just get 1% of the population…" is a phrase that has inspired – and disappointed – countless executives across all sectors, not just sports, but the problem is, it's not that easy to crack China. There are only certain sectors of the population to target – remember that close to half the country still live in rural areas, which are light years behind world-class cities like Beijing or Shanghai in terms of development. There are still a lot of people to go around, but every sport is targeting a similar demographic, so it's still pretty competitive.
JF: We hear about basketball and soccer being the growth opportunities. What is the real business opportunity there?
MD: Winter sports are seeing a boom in the run up to the 2022 Beijing Olympics and mass participation sports – running, swimming, cycling, fitness trends etc – are also seeing a lot of growth, but China needs help at all levels and in almost all sports. To pick soccer as one example, 99% of the headlines are devoted to what happens on the pitch, but China desperately needs help when it comes to other areas, such as training facilities, pitch building and maintenance, stadium building and maintenance, food/beverage and the "matchday experience", coaching, refereeing – the list goes on and on. Long term, of course, China would like to be able to handle all these things itself, but we are a long, long way from that goal and there are opportunities at every level in the meantime. Finland, for example, has positioned itself as the go-to country when it comes to building new ice rinks, as a way to capitalize on the winter sports boom. In the same vein, other countries, companies and individuals should be looking to exploit these gaps and work with the Chinese to fill the talent and knowledge vacuum.
JF: Why is the Joe Tsai move to buy 49% of the Brooklyn Nets move so important to the development of Chinese sport – or is it?
MD: As I wrote in a recent piece, Joe Tsai is not a typical "Chinese" sports owner, given that's he a Canadian citizen whose love of sports was forged during his education in the US. That said, he is a co-founder and senior executive of arguably China's best-known company and this move typifies the trend we've seen of Chinese firms and entrepreneurs diversifying into the sports sector, more often than not venturing overseas to do so. His arrival in the NBA won't make much difference back home, where basketball is already hugely popular and fans already have their favored teams and players. But over the longer term, the Nets could build up their brand in China so as to rival the Houston Rockets, which has thus far been known as "China's team".
JF: Who are two or three individuals the US sports business person should know about in China, but doesn't?
MD: There are many people I could list here, but here are a couple:
Jiang Lizhang: in addition to owning 5% of the Minnesota Timberwolves, he owns 60% of Italian soccer club Parma, 90% of Chinese soccer club Chongqing Dangdai Lifan and 100% of Spanish soccer club Granada. He also founded and runs the Desports sports agency which, among other things, has just become the official agent for FIFA in finding regional partners in Asia.
Zhang Jindong: Alibaba gets most of the headlines in the Chinese/global e-commerce space, but the Suning e-commerce group – which is headed by Zhang – controls both Inter Milan and Chinese Super League team Jiangsu Suning. Additionally, Suning also controls PPTV, one of the leading online broadcast platforms, and Suning has partnered with DDMC – parent company of Desports (see above) – meaning that one conglomerate/partnership now controls pretty much all the foreign soccer rights in China.
JF: We know about the stories of Stephon Marbury, Tracey McGrady and Kobe Bryant in terms of their popularity. Who are some athletes who have gained fame that we don't know about?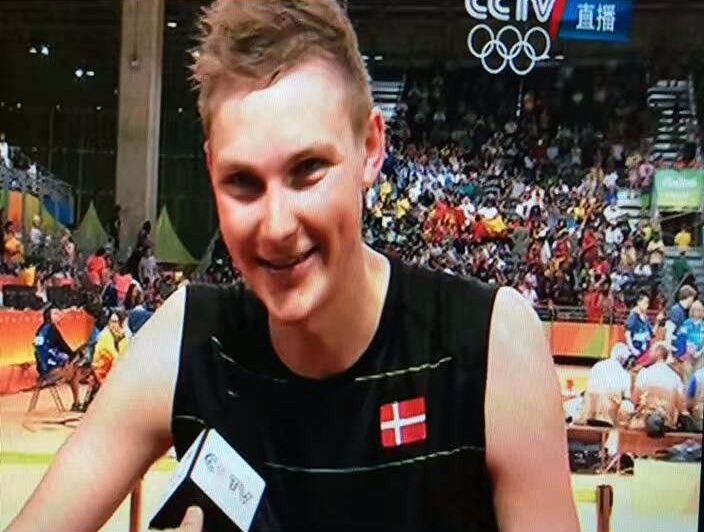 MD: Lin Dan, the so-called bad boy of Chinese badminton, is someone who has achieved Yao Ming or Li Na level fame in China, but never truly went global due to the relative unpopularity of the sport worldwide. Also in badminton, but on the international side, is 23-year-old Dane Viktor Axelsen (above). He's now up to #1 in the world, but has long based himself in China and regularly gives interviews in fluent Mandarin, which has endeared him to Chinese fans. Elsewhere, swimmer Ning Zetao is a rock star in China thanks to his boyish good looks and is more popular than many of his more talented teammates in the pool. Chinese fans like a lot of the same sports stars who are popular globally – Messi & Ronaldo, Federer & Nadal etc. Then there are the foreign players in the CSL, some of whom have built up cult following among their fan bases, such as Brazilian striker Elkeson – who could, technically, qualify to play for China next year under FIFA residency rules, though it's doubtful that China would grant him citizenship. Aside from that, anyone with "China" story or connection gets play in the domestic media, so someone like Alex Hua, who is a London-born, Eton-educated equestrian athlete, makes news every Olympic cycle because he qualifies to compete for China through his father's side.
JF: There has been a growth spurt of successful Chinese businessmen buying global soccer clubs. Who are the ones who have gotten involved in global sport that will be successful and why?
MD: As a generalization, I would say that known quantities – eg Suning buying Inter Milan or Fosun Group buying Wolves in the UK – are safer bets, not because they are any more competent in the sports field (since many are new to the sector), but because they are more likely to still be around 5 or 10 years from now. Tony Xia has been a fantastically engaged and passionate chairman at Aston Villa, regularly responding to fans on Twitter, but all the questions that surrounded him at the time of the takeover – Who is he? Where is his money from? Is it even his money? – haven't gone away, even though the team is currently doing well on the pitch. Similarly, Li Yonghong popped up from nowhere to buy AC Milan, while Gao Jisheng at Southampton is known to have had a murky past. These guys would not fill me with confidence if I supported those teams. We've seen so many investors come from other sectors, venturing into sports for the first time, but those who have stronger ties to sports – such as Wanda's Wang Jianlin (Infront, FIFA, Ironman, Atletico Madrid etc) or Zhou Yunjie of ORG Packaging (Auxerre FC, ice hockey investments) – are far more likely to stay in sports and be involved for the right reasons over the long term.
JF: The China Arena Football League (CAFL) has been a bit of an outlier. What is the potential of American football in China?
MD: The NFL came into China all guns blazing about a decade ago, with the promise of a game in the Olympic stadium, but the financial crisis hit hard and the league beat a hasty retreat. However, since then, they've made slow, but steady, growth and now have a significant audience across a variety of platforms. It's not threatening to rival basketball or soccer – nor is it ever likely to – but it's a good example of how a "new" sport can still build an audience in China, which, by default, then becomes a significant part of the sport's global fan base simply due to the size of the China market. However, it's important to have a long-term strategy. The CAFL just came into China last year after a bit of delay and, with the second season not set to kick off until next spring, it's still far too early to say whether the league will succeed here, but the coverage they will get from having Stephon Marbury as a team owner certainly won't do any harm!
JF: What Chinese brands do you see ready to really engage in American professional sports? Any new names?
MD: From a sponsorship perspective, I can see Huawei, who are finally set to sell phones in the US after years of being blacklisted, getting involved in the US in the same way that they've sponsored sports teams across many other parts of the world. The other big phone companies – Oppo, Xiaomi, Vivo etc – have been far more active in Indian cricket, because their low-priced handsets are much more appealing to the Indian market. However, Vivo's sponsorship of FIFA could be a sign that things are set to change, if Chinese brands decide to sponsor big, global (US) properties, like the NBA, that could help boost their brands around the world rather than focusing directly on the US market.
JF: We now are entering an Olympic and World Cup cycle. How important will that cycle be to the growth of sports business in China?
MD: I think the Olympic cycle will be huge given that the following Winter Games will be in China. Every winter sport is making a push here at the moment, and they will receive a huge boost from the TV coverage in February, which will be wall-to-wall and, crucially, in the right time zone for a Chinese audience. It's a real shame that the NHL players won't be there – and a missed opportunity of truly epic proportions – but China will get a glimpse at some of the stars who might be winning medals at home four year later. In terms of the World Cup, China, once again, missed out on qualification, but China is in the list of top 10 countries to have requested tickets, so there will be plenty of Chinese fans in Russia – and of course many more watching back home. China probably won't qualify in 2022, but really needs to do so in 2026 when the competition expands the number of teams. But with an increasing number of Chinese companies sponsoring FIFA over the past few years – Wanda, Hisense, Vivo, Alibaba – there should be a huge amount of activation next summer.
To keep up-to-date with all the latest news from China Sports Insider, please click on the "SUBSCRIBE" button in the top right corner of this page (or see below on mobile version). Also follow along on Twitter for regular updates.